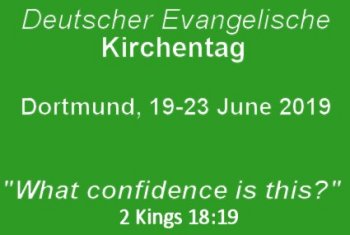 Ticket sales are now open
Ticket sales are now open for the 37th Deutscher Evangelischer Kirchentag from 19th-23rd June 2019! Around 100,000 people are expected. At the last count about 2000 events are in preparation.

Tickets can be booked here. Card purchases by telephone (+49 231 99768-100) are possible You can even book by post.

Registration
Closing date for the first applications Anyone planning an event on the programme in the areas of culture, worship, the centres for children and young people, and the Markt der Möglichkeiten, will have to hurry up a bit. New applications will be accepted only until 30th September. This also applies to the workshop format "Werkstatt.Inspiration.Mission" and the International Peace Centre. Further information about collaborating at the Kirchentag can be found here.

Mobility at the Kirchentag
No bicycle in Dortmund? No problem! All Kirchentag season tickets include a travel pass for the whole tariff zone of the VRR (Verkehrsverbund Rhein-Ruhr plus Lünen, Bergkamen, Kamen, Unna, Holzwickede and Schwerte) valid from Wednesday, 19th June to Sunday, 23rd June 2019. In the case of day- and evening tickets the validity extends over the appropriate day.

Group registration
Kirchentag is a group experience! Travelling together and the accumulation of experience create close connections between people. Information, tips and ideas about Group registration and preparation have been gathered at kirchentag.de. To draw this to people's attention in church newsletters or magazines, there are sample texts and pictures for download.

Kirchentag Barrierefrei
For more than 30 years "Barrierefreiheit" (roughly "accessibility") has been a major Theme at the Kirchentag. During that time about 90% of all events have become accessible and a wehole range of events take place with interpretation for deaf people. There is also "Zentrum Kirchentag Barrierefrei" ready to cope with questions and the need for advice. The whole of the next issue of Kirchentag-Magazine will be devoted to this topic. All issues of the magazine are available free on the website.