"Damit ihr Hoffnung habt" - that you may have hope. Such is the theme of the Second Ecumenical Church Festival - 2. Ökumenischer Kirchentag - held in Munich in May 2010.

This is the eighth Kirchentag that Helga and I are attending since our first in Hamburg in 1995, including the first Ecumenical one in Berlin in 2003 and only missing the one in Hannover in 2005. For us, this Kirchentag is a special bonus as it follows just one year after one in Bremen last year, and with the prospect of attending one in Dresden next year.

As always, the Kirchentag came 'real' for us in April when our documents arrived, especially the programme book - a staggering 720 pages thick - listing around 3,000 events including numerous discussion sessions, music, theatre, displays, church services and very much more, appealing to every conceivable taste and interest. Drawing up a list of what we wanted to see and do was no easy matter as there were so many fascinating choices, and the considerable distances between events had to be carefully considered. In particular, we debated whether we would attend sessions organised by the British Kirchentag Committee or hear what our old friend Hans Küng would have to say. The latter won, though it is a pity that these two key events coincided. Also, we sought to strike a balance between discussions, music and church services and also to have time to see at least some of the 900 or so displays in the Agora (or Markt der Möglichkeiten, Market of Possibilities, as it is called at the Protestant Kirchentags). Doubtless what we will actually do will, as is always the case, bear little relationship to what we plan to do!

On all previous occasions, I set out in a mood of happy expectation but this time I was in a more sombre mood when we arrived in Munich on the Saturday before the Kirchentag. Admittedly, the very grim 10-day weather forecast and the possibility that the erupting Icelandic volcano might prevent our journey were no causes for confident expectation. But the real reason was the very serious issues facing the Christian church and the world today. The Roman Catholic Church is deeply shaken by the revelations of terrible sexual abuse and the equally terrible cover-up attempts, there is a distinct possibility of an impending collapse of capitalism and climate change and environmental disasters seriously threaten human life on earth.

But the theme of the Kirchentag is "Damit ihr Hoffnung habt" - that you may have hope - and thus there is hope that the collapse of capitalism will herald a new and much more just and caring world order that would also protect the fragile environment. Also, the Roman Catholic church could well be shaken by recent scandals out of its self-righteousness, hubris and arrogance in favour of a much more humble and conciliatory stance. Certainly the programme lists many serious discussions on these and related topics by some very eminent people. Hopefully these will not just be exchanges of words but will inspire the audience to positive action which is so definitely needed at the present time in human history.

As it happened, we had a very straightforward journey and a punctual landing in Munich and were soon at the Hotel Ambiente just south of the main railway station and just a few minutes' walk from the city centre. We agreed that it was an extremely pleasant hotel - very quiet despite the central situation, a comfortable room, a great buffet breakfast, friendly staff and excellent value for money. We then had three highly enjoyable days in Munich - a bit on the cool side but, in defiance of the weather forecast, with plenty of sun and we had a great time exploring the really attractive city centre, with Europe's largest pedestrian precinct, visiting several impressive churches and museums, strolling through the 'Englischer Garten,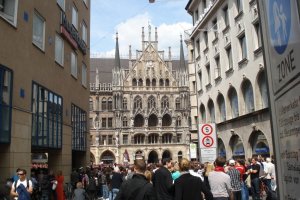 one of the world's largest urban parks, and enjoying meals and mugs of beer in several of the famous brewery restaurants and in the Ratskeller under the city hall. On Sunday we attended Mass in the Cathedral - Dom Zu unserer lieben Frau - one of Munich's most distinctive landmarks with its two lofty brick towers with onion domes. On Wednesday, the first day of the Kirchentag, the weather took a turn for the worse, with a dull grey sky and showers, but by very good fortune the rain held off for the three open-air opening services and the street party that followed. We attended the opening service at the Odeonsplatz and then followed the crowds of people wandering past numerous stalls selling food of all sorts and various formal or spontaneous musical events, including one group handing out a vast array of percussion instruments to passers-by who wanted to join in, and then back to bed. But sleep did not come easily as I felt strangely challenged in all my beliefs and philosophy. This feeling recurred several times during the Kirchentag, with a strong sense that I have something important to do here on earth before I step into an eternity of Life, Light and Love.

The next day, Thursday, was Christi Himmelfahrt - Ascension Day - and, similar to what was done at the Frankfurt Kirchentag in 2001, services were held in the Roman Catholic Cathedral and in Orthodox and Protestant churches followed by processions from all three to the Odeonsplatz for a further combined service. We went to service in the Cathedral, a service attended by numerous bishops and led by the archbishop of Munich, Reinhold Marx, the second Marx to write a book entitled Das Capital! It was a lovely service, with really superb music by the cathedral choir and brass ensemble, though the air was thick with incense. For reasons that I will set out in my comments, I received communion.

It was teeming with rain when we came out of the cathedral so we did not join the procession to the Odeonsplatz, but took the train to the Messe, the trade fair, where many of the Kirchentag events were held. As Honorary Vice President of 'TB Alert', England's tuberculosis charity, I made a bee-line for the German tuberculosis and leprosy charity stall but, alas, as at Bremen but in stark contrast to Köln, those at the stall seemed to be totally ignorant of the subject! We had better luck at the Shanti Leprahilfe, a charity based in Dortmund and providing leprosy care in Nepal, and had a very good and informative chat with a lady who we also met in Bremen last year. Also, at the stall of Hilfe für Menschen im Kongo, we had a long chat with a married couple, both pastors, who had worked in the Congo, and were saddened to hear how the country had deteriorated since our year there in 1971. They have established an orphanage for girls who would otherwise have to live a terrible existence on the streets. Clearly this is a charity well worth our support.


After a snack at one of the numerous small food outlets we got in well in time for what we correctly guessed would be a very popular and extremely crowded event in one of the largest halls, for a session entitled 'Wie Glauben leben? Die Mitte des Christseins' - How we live by faith? The essence of Christianity - with Hans Küng as the principle speaker. Predictably, this was an enthralling session with much applause from the audience, and laughter when he referred to his colleague Professor Ratzinger! He mentioned that he had written a letter to all the Catholic Bishops calling for major changes and a further Vatican Council and expressing his view that Ratzinger has made a number of serious mistakes. He added that he had no grudge against those in the Pontificial Office in Rome but only wanted to introduce them to Jesus of Nazareth! In the discussion that followed, it was evident that there was a clear desire for the Catholic Church to reform itself, and hints that a lay person could trigger a second Reformation.

For supper we returned to the city centre and only just managed to squeeze into the Hacker-Pschoor brewery restaurant as it was full of people wearing their orange scarves proclaiming them to be 'Kirchentagers'. We had a leisurely meal and got chatting to two young men who had come to the Festival from Kiel. Then followed one of those special magical moments that make Kirchentags so worthwhile - a lovely service of reconciliation in the Drifaltigkeitkirche (Trinity Church), not far from our hotel. The service was led by a Protestant Lady Pastor and a Catholic priest and assisted by members of Chemin Neuf, an ecumenical community founded in 1973 by a Jesuit priest with the aim of promoting charismatic renewal in the church, based on the spirituality of Ignatius of Loyola. There was a lovely atmosphere during the service, reminiscent of Taizé in style, and the pair who conducted it appeared to radiate kindness and compassion. Those attending were invited to linger on afterwards and, if they wished, to have personal ministration but time was getting on so we made a hurried dash in teeming rain back to our hotel for a sound sleep.

On Friday we set out early for the Messe to ensure getting in for a bible study which we correctly assumed would be very popular. It was led by Wolfgang Thierse, a key activist in the largely church-led 'Velvet Revolution' that led to the collapse of the Berlin Wall and who subsequently became the equivalent of Speaker in the German parliament. The theme of the study was Romans 8:16-25 in which St. Paul contrasts our present suffering with the as yet unrevealed splendours that await us, and refers to the created universe groaning as in the pangs of childbirth. In respect to our role as stewards of the created world, Wolfgang Thierse referred to the need for democracy in all walks of life, including the church, with power and decision-making being in the hands of all Christians, not just a few bishops. He emphasised that there is no place for fear in our relationship to God, adding that Jesus had used the word Abba, which means dear parent, mother as well as father. Referring to the Catholic Church he asked, to great applause, "Does the Holy Spirit exist outside the Vatican?" During a pause in the bible study, a small chamber orchestra and choir gave a beautiful rendering of Bach's Kantate no. 147. Fortunately, our next chosen event was in the same hall, and was an address 'Wie viel Hoffnung bringt die Okumene?' - How much hope does Ecumenism bring? - by Cardinal Karl Lehmann, Bishop of Mainz, a stout, jolly fellow who we have heard speak so well at previous Kirchentags and who is a keen supporter of the ecumenical movement. His address spelt out a major problem clearly - the mountain of man-made obstacles and dogmas that stand in the way. I emphasise 'man-made' as the problems have nothing to do with God. In this context, I am always bemused by the fact that each year we have a week of prayer for Christian unity and then put up a host of obstacles that prevent that prayer from being answered! It is like St Augustine, quite a ladies' man, who prayed "Lord, make me chaste - but not yet!" I also think of the Zen master who asked his pupils "If I say I have a bottle with a very narrow neck and containing a fat goose, how can I free the goose without breaking the bottle?" The answer, which none of the students got, is "Say it is free!"

Then it was lunchtime, and we both had Flammkuchen - something rather like a pizza but thinner and, as the name suggests, cooked in a hot flame. We first encountered these delicacies in Alsace a couple of years ago but those we had at the Kirchentag were far better! Then, while Helga kept places for the afternoon's session, I paid a quick visit to the Agora and had a nice chat with Bishop Rupert Hoare at the stall of the Anglican-Lutheran Association which seems an excellent organization which we will certainly join. I then said a brief 'hallo' at the nearby stall of the Diocese of Oxford and was delighted to hear that they really think the world of their new Bishop, John Pritchard. (I was amused to see that the magazine of the Diocese of Oxford is called The Door, while that of the Anglican-Lutheran Association is called The Window.)

The two afternoon sessions that we attended were on the theme of ecumenism. The first, 'Warum im Glauben straiten?'- Why have arguments over belief? - took the form of a panel discussion with several speakers including Olav Fykse Tveit, Secretary General of the World Council of Churches in Geneva, Nikolaus Schneider who has replaced Margot Kässmann as Chairman of the Synod of the German Protestant Church, Archbishop Robert Zollistsch, President of the German Catholic Bishops' Conference and Dr. Dorothea Sattler, a Catholic theologian. The mood of this very well attended session was remarkably harmonious and, to our surprise and delight, the contribution from Archbishop Zollistsch was very positive. He ended by stating that he looked forward to further discussions with his new Protestant counterpart and that he would work actively towards a shared communion! Let us hope ….. He did, however, remain expressionless when Dorothea Sattler regretted that the question of women Catholic priests was still a taboo subject.

The second session, on the same theme and entitled 'Getrennt am Tisch des einen Hern?' - Separated at the table of the one Lord? - was a panel discussion with several participants including Hans-Jochen Jaschke, the Catholic Bishop of Hamburg, and it commenced with testimonials from partners in mixed marriages who had, for many years, been unable to share the Eucharist. The paradox of being united in baptism yet separated at communion was raised, and the effect on children at their confirmation when one parent could not share their first communion. In the ensuing discussion, however, it was pointed out that, in Germany, there were so many mixed marriages that priests just had to turn a blind eye to shared communion. Also, it appears that the rules are not as rigid as often they are thought to be, and that if members of protestant churches in all conscience believe they should receive communion in a Catholic church, then they may do so and the priest may not refuse them. Personally, I accept St. Pauls words that we are one body as we share the one bread, and that is why I received communion in the Cathedral on Thursday morning.

Then came a time for difficult decision-making. An important and widely proclaimed event at this Kirchentag was an Orthodox vesper at the Odeonsplatz, with 1,000 tables to seat 10,000 people for sharing bread which had been blessed. We had previously read about the plans for this event in a German newspaper which regretted that the bread would just be blessed and not consecrated as in a communion, with the comment that this was "a cowardly compromise". In fact, it was the chilly weather and prospect of rain rather than the compromise that deterred us from attending and we decided instead to have supper and then go to the Cathedral for a choral concert -Te Deum Laudamus - with works by Berlioz and Mendelssohn but, though we arrived three-quarters of an hour early, the Cathedral was packed solid so we went instead to St. Michael's church, almost next door, for an international ecumenical service - Ökunenischer Gottesdienst mit Gästerin aus der Einen Welt. Many different organizations took part, and there was a wide range of musical styles, including the superb choir of the Ukranian Greek Catholic community in Munich. This reminded us of our stay in Lvov last September and to our delight and amazement on finding the 100 or so churches in that city, mostly Orthodox, packed full on Sunday with devoted worshippers of all ages. (The Greek Catholic Church accepts the authority of the Pope, but they retain the Orthodox style of worship and the regalia of the clergy.) Also, the setting was magnificent - St. Michael's church, built for the Jesuits, is the largest late Renaissance church north of the Alps, with the building commencing in 1583, and with the second largest barrel vault in the world, after St. Peter's in Rome.

Saturday proved to be yet another overcast day so once again we went straight to the Messe for a bible study on Matthew 25:31-46, the parable of the sheep and the goats. The study took the form of a trialogue between Stefan Nitsche, Lutheran Bishop of Nurnberg, Anthony Priddis, an Anglican Bishop from Hereford, and Ludwig Schick, the Catholic Archbishop of Bamberg. It was very encouraging to see such concord and harmony between bishops from three different denominations. They emphasised the richness and variety of interpretation of this short text and that the commentaries written on it could fill a whole library. It made me realise what a fiendishly complex subject theology is, and made me grateful that I am a scientist, with the ability to test concepts by experimentation, yet well aware of those of my colleagues who regard their own work and concepts as infallible Holy Writ! Bishop Schick emphasised once again that the Catholic Church is not nearly as rigidly dogmatic as those outside it presume it to be, and at another session at the Kirchentag he questioned the need for Catholic priests to be celibate.

The time with these three delightful bishops was followed by a very well attended and extremely challenging session with addresses and dialogue on environmental issues entitled 'Schöpfung bewahren in der einen Welt'. The principal speakers were Sunita Narain, Director of the Centre for Science and Environment in New Delhi, and Ernst Ulrich von Weizsäcker, a well known German environmentalist. Then, after lunch - delicious spicy stuffed breads - we attended another session on a closely related theme 'Globales Wachstum ohne Ende. Kennt Wohlstand Grenzen?'

The speakers in both these sessions made it abundantly clear that the world and the human race are rushing towards unprecedented disasters. So many important matters were touched on and I can only briefly summarise a few of them. Sunita Narain affirmed that climate change and its adverse effects are much more evident in India than in Europe, adding that the real finance minister in her country is the monsoon, as a lack of rain has devastating effects on farming, food supply and local economics, and that if we continue as we are, the air will be unbreathable in 100 years time. The predominant mantra is 'economic growth', but can we have a decent life without economic growth? Is happiness related to prosperity and economic growth and is wellbeing the same as affluence? The happiness index is high in poor countries and apparently Tanzanians are happier than Germans. Is economic growth essential for the elimination of poverty? Not necessarily, as the keys to elimination of poverty are true democracy, justice and human rights. We are gobbling up the world's resources at an unsustainable rate and economic growth will inevitably lead to global warming. If we want to ruin the world we only need to continue as we are doing! We are so wasteful and extravagant and we could manage on one fifth of our energy consumption and we could be developing low energy technology and sustainable energy sources. The North, in ignorance and arrogance, is causing great destruction in the South and the biosphere and biodiversity are under serious threat and the victim of cynical exploitation. All this is a Christian issue, calling for community and individual action.

The next session we attended was also very popular - 'Ihr k๖nnt nicht beiden dienen - Gott und dem Mammon' - You cannot serve both God and Mammon. Fortunately this was in a large hall in the nearby Conference Centre with proper comfortable seats, as our backs were beginning to feel the strain of sitting on the peripatetic cardboard boxes for so long. The theme was the present financial crisis brought about by stupid and greedy bankers and the speakers were Bishop Wolfgang Huber, a retired President of the Protestant Church of Germany, Archbishop Reinhard Marx and the Deputy finance minister. (Sadly, the finance minister himself, Wolfgang Schäuble, was unable to attend due to illness. This pleasant and courageous man has been in a wheelchair for the last 20 years, following an assassination attempt.) Again, it was good to see the bishops from the two denominations in obvious unity and harmony and to see that senior bishops can be so lucid and knowledgeable in worldly issues. The theme was that unless financial matters are conducted henceforth in a highly ethical manner, we will see the collapse of the capitalist system. We have a stark choice - develop a new world order or face chaos. The session was prepared by a group of banks that serve the churches and their social services, the Diakonie and Caritas.

At the previous protestant Kirchentags it has been an established custom for many churches to hold services on the Friday evening, but on this occasion they were held on Saturday evening, both Protestant Eucharists and Catholic Masses, as well as a few Orthodox services, with a very large choice. We attended one of the Catholic services, for the very practical reason that they started an hour later than the Protestant ones, allowing time for the journey from the Messe to the city centre. The service we attended was in the beautiful St. Michael's church, which we had attended on the previous evening. The service was organised by the Sant'Egidio Community, a lay Catholic community dedicated to friendship with the poor, ecumenism, interfaith dialogue and peace. The music was really wonderful and, together with the setting, reminded me of the effect that the music of the Dwarves had on Bilbo Baggins in The Hobbit - "As they sang, the hobbit felt the love of beautiful things made by hands and by cunning and by magic moving through him." It was a delightful ending of a busy day with such crucial issues having been discussed and shared. We slept like logs!

Alas, the weather was no better on Sunday morning when we joined around 100,000 others on the large open space known as the Theresienweise, the site of the famous Oktoberfest, for the closing service. Certainly the weather did not deter the crowds which was just as well as it was one of the most moving closing services we have experienced, not least because of the wonderful peal of bells form the nearby St. Paul's church to open the service. As Alois Gluck, the Catholic President of the Kirchentag, remarked, "German ecumenism is weather-resistant!" Perhaps with Rome in mind, The Protestant Kirchentag President affirmed that "It is not the church that invites us to the Table of the Lord, but Christ himself." There was some lovely music, especially a superb rendering of Bach's Magnificat 'Gloria Patri' and, for contrast, some alpine horn blowing. In his address the Orthodox Metropolitan Augustinos remarked that the expression 'The fear of God is the beginning of wisdom' no longer applies as His blessed name, Love, drives out fear. It the only remained for invitations to attend the next Protestant Festival in Dresden next year, and the Catholic one in Mannheim the following year.

The rain had ceased by the end of the closing ceremony so, as our tickets were valid for free rail travel for the remainder of the day, we went to the Ammersee, hoping for a nice stroll along the shores of Bavaria's third largest lake, but a bitterly cold wind was coming off the water so we had a nice trout with spinach and mugs of Helles in a lakeside restaurant and reflected in a very memorable Kirchentag, with hopes that all the concepts and ideas voiced over the previous four days will lead to practical action, eventually to the much needed second Reformation!

And now for some reflections, on a glorious hot and sunny Sunday evening!

For us, this Kirchentag had quite a different feel than our previous ones. On previous occasions just being there and soaking up the wonderful atmosphere was, on looking back, more important than what we actually did. This time it was the other way round. On previous occasions we have delighted in all going on in the city - brass bands on every street corner, street plays, impromptu activities and masses of people enjoying themselves. On this occasion, the unexpected poor weather caused by a deep depression named Zena, kept us mostly indoors, principally at the Messe, though we did attend four very impressive church services in the city centre.

More than at any previous Kirchentag, there were so many things that we wanted to do and we wished we had Hermione Granger's time turner featured in Harry Potter and the Prisoner of Azkaban which would have enabled us to attend one session, turn the time back and then attend a parallel one! Decision-making was far from easy. We would, for example, have liked to have attended Fritz Baltruweit's session on angels, even though it may well have been a repeat of his performance in Bremen, truly a highlight of that Kirchentag. I am still intrigued by angels - are they just in our minds or are they really celestial messengers and guardians. Some events in my own life incline me to the latter view.

Our principal memories are therefore of the profound discussions that we attended. As I have already mentioned, there is no denying that we are surrounded by danger and challenge - the possible collapse of capitalism, environmental pollution, climate change and threats of terrorism. In my own field, there are really scary reports of the spread of almost untreatable tuberculosis in many countries but with only feeble responses by the grossly underfunded international health agencies. These topics were well discussed at the Kirchentag, though we did not get to the session on health issues. It only remains to be seen whether any of these discussions generate positive action. Let us hope …..

The other great topic was ecumenism, which has been a major issue at Kirchentags, especially since the one at Frankfurt in 2001 where we well remember a lady pastor regretting, to thunderous applause, the petty-minded theology that keeps us apart at communion. Have things moved on? At the level of the Pontifical office in Rome, the answer seems to be no. But the message that came over loud and clear at this Kirchentag is that the authority of the Pope and his bishops is slipping away. Several speakers commentated that a lay-led democracy is rearing its beautiful and courageous head. There were indeed calls for a second Reformation and this could well start, as did the first, in Germany. Although in Germany the Protestant and Catholic Churches both have similar memberships, each around 25 million, many Catholics are leaving their church, many who stay no longer trust their church leaders and the popularity of the German Pope, Herr Ratzinger, is waning fast. Also, 80% believe that the sexual scandal of their church is a direct consequence of the rule of celibacy, a rule that is making it difficult to recruit young men to the priesthood and to place priests in parishes, and 70% want lady priests and a much greater respect and equality for women. There have been public demonstrations and a call for a renewal within the Catholic Church, and the serious German newspaper Die Zeit has predicted a second Reformation. Celibacy seems such an unnatural and unnecessary burden on those who would serve the church, as well as being unbiblical. It is encouraging that one Catholic bishop questioned this imposition at the Kirchentag. Also, why not have women priests and bishops, even a Pope perhaps? The 'Beloved Disciple' was a woman, and what was acceptable to Jesus should be acceptable for his church. Let us hope …..

On the subject of women, one great disappointment at this Kirchentag was that Margot Kässmann had cancelled several of her planned appearances. She had been the Bishop of Hannover and the President of the Council of the Protestant Church in Germany but resigned a few months ago after a drink-drive motoring offence. She was and is still extremely popular and deeply loved and her popularity was acknowledged by the applauding crowds that flocked to hear her at those events that she had not withdrawn from. She led a service for women in the Cathedral and the German press has now proposed a special, but informal, role for her, as a 'bishop for women', to work for women's rights and equality in the church, both Protestant and Catholic. We wish this delightful and charismatic lady the very best of luck - that would be a very important and role for her which could have widespread beneficial effects and give her a central role in the second Reformation. Let us hope …..

I have mentioned theology, and this exceedingly complex subject seems to me to be a stumbling block, with adherence to the letter of the text generating rigid dogmas and traditions. For me, all theology is summarised by sixteen words of the Beloved Disciple, "God is Love. He who dwells in love dwells in God and God dwells in him." Metropolitan Augustinos is quite right in his assertion that the expression 'The fear of God is the beginning of wisdom' is meaningless as, again quoting the Beloved Disciple, "Perfect love casts out fear." Thus the love of God is the beginning of all wisdom but so many people shy away from this lucidly clear fact. Jesus was aware of this problem - "Alas for you lawyers! You have taken away the key to wisdom. You have not entered in yourselves, and those who would enter you stopped." Interestingly, the German bible has the word Schriftgelehrter - the student of the letter of the text - for the English word lawyer, thereby accentuating the meaning.

In a very powerful way, the assertion that God is Love was implicit throughout the Kirchentag. It is a message that needs shouting out aloud, especially in the Vatican, because if we regarded the communion as a festival of love, or Agapefeier as it was called at the Frankfurt Kirchentag, that would solve so many problems and open so many doors. Let us hope …..