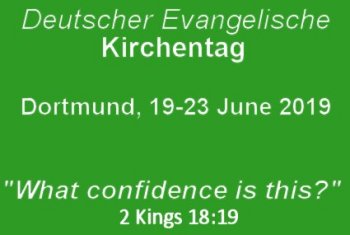 Looking back!
Reports, Pictures & Statistics of Berlin-Wittenberg 2017

4½ minute radio programme made by Hugh Dickinson of BBC Three Counties Radio, broadcast the Sunday after the Kirchentag. (mp3 format)



Looking ahead!
Information about Dortmund 2019 as it comes in...
19-23 June 2019 - 37th Evangelischer Kirchentag in Dortmund
Keep an eye on our Facebook page - link below
In January, fifteen vans transported the office equipment and furniture from Berlin to Dortmund. There are now forty people working in the new office in Kronenburgallee to prepare for the Dortmund Kirchentag.




12-16 May 2021 - 3rd Ecumenical Kirchentag in Frankfurt am Main


Roadmap to a European Christian "Convention" - a new initiative that grew around the Stuttgart 2015 Kirchentag.
Please note: to avoid the risk of "phishing", the @ sign has been replaced by [at] on all personal email addresses on this website

Opinions and views expressed on this website do not necessarily reflect those of the British Committee.

Webmaster: Robin Blount (robin.blount38[at]gmail.com)
30 June 2018